Guide to Atlanta's Best Parks
Atlanta had been nicknamed "The City in a Forest" due to its abundance of trees in an otherwise densely populated urban area. Seeing an opportunity with its nickname, the city of Atlanta has established plenty of amazing parks to visit. These parks offer plenty of walking trails, beautiful architecture, and fun attractions nearby.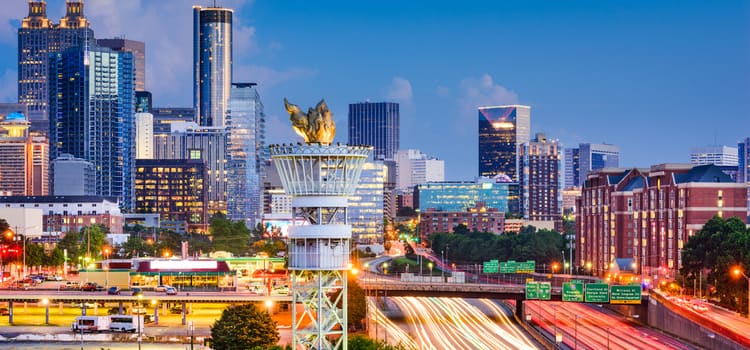 Visiting parks is a great group activity, and reliable transportation is a must when travelling with a group. Atlanta Charter Bus Company can help you get a charter bus for any group size, and any occasion. The buses we charter are modern, comfortable, and listed at competitive prices. If you give us a call at 404-474-7769, one of our agents will be able to tell you more, and work with you to get the best charter bus for your group's unique needs.
Below, check out our guide for the best parks in Atlanta.
Centennial Olympic Park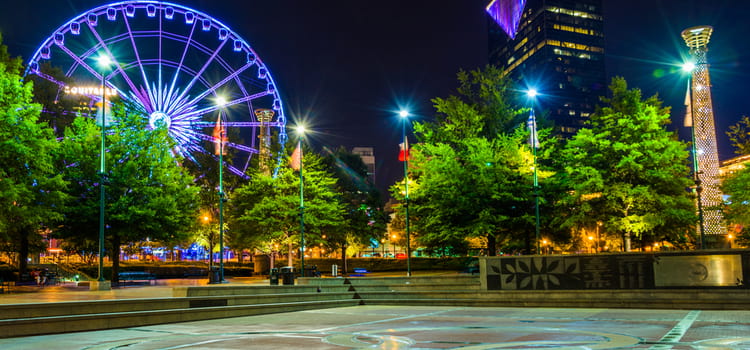 Spanning 22 acres, Centennial Olympic Park was built as part of infrastructure improvements for when Atlanta hosted the Summer Olympics in 1996. You can find monuments and architecture dedicated to both the Olympics and Atlanta's history within the park, such as the Fountain of Rings, a popular attraction for kids and adults alike to explore. In recent years, the park also added Atlanta's first Ferris wheel.
The park is centrally located in the heart of Atlanta, and is walking distance to some of Atlanta's most popular attractions:
The Georgia Aquarium
Less than a five minute walk from Centennial Olympic Park, the Georgia Aquarium is the largest aquarium in the United States. The aquarium features seven major galleries of animals, including belugas, dolphins, sea lions, otters, manta rays, and more. More recently, an  exhibit dedicated to sharks was opened in early 2021.
Address: 225 Baker St NW, Atlanta, GA 30313
World of Coca Cola
The World of Coca-Cola, commonly nicknamed World of Coke, showcases the history of the famous soda company through several interactive exhibits. You can also visit their tasting room, which has dozens of different Coke flavors from all over the world.
Address: 121 Baker St NW, Atlanta, GA 30313
National Center for Civil and Human Rights
The National Center for Civil and Human Rights tells the story of human rights activists and struggles in both permanent and temporary exhibits. The center takes a local and global approach to human rights, exploring the history of human rights in both the United States and across the world, and how the two are connected.
Address: 100 Ivan Allen Jr Blvd NW, Atlanta, GA 30313
College Football Hall of Fame
Dedicated to the popular sport, the College Football Hall of Fame is a modern museum with interactive exhibits, and includes college football memorabilia, history, an indoor playing field, and more. It's a must see attraction for college football fans.
Address: 250 Marietta St NW, Atlanta, GA 30313
Piedmont Park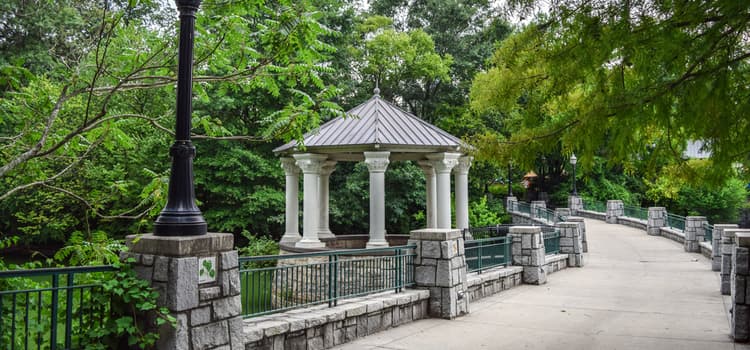 Piedmont Park is about 2.5 miles away from Centennial Olympic Park, and offers numerous activities within the park and close by. It is known for being a very dog-friendly park, offering three acres of off-leash park area for dogs. The park is also known for hosting some of Atlanta's biggest yearly events, such as the Atlanta Pride Festival and the Atlanta Dogwood Festival.
Below are some of the best and closest attractions to Piedmont Park:
Atlanta Botanical Garden
The Atlanta Botanical Garden is a garden with a myriad of gorgeous flowers, shrubs, and special exhibits, including a glass sculpture garden by famed artist Dale Chihuly. Visit during the holiday season to see the entire garden lit up with thousands of lights for their Holiday Lights program.
Address: 1345 Piedmont Ave NE, Atlanta, GA 30309
High Museum of Art
Atlanta is widely considered an arts and culture hub, and the High Museum of Art offers an opportunity to view more than 18,000 pieces of modern and contemporary art from different mediums in an open setting.
Address: 1280 Peachtree St NE, Atlanta, GA 30309
Fox Theatre
The Fox Theatre is central to Atlanta's history, having opened in 1929. Today, the theatre hosts a variety of shows and entertainment, from concerts to Broadway shows to comedy shows. It has even hosted acclaimed musical Hamilton during its original tour.
Address: 660 Peachtree St NE, Atlanta, GA 30308
Historic Fourth Ward Park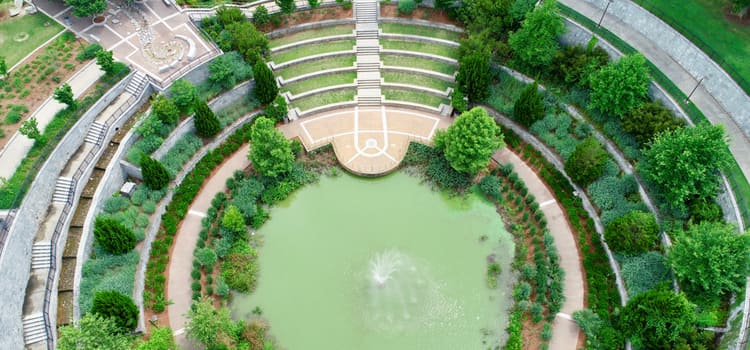 This park was built on the previous site of the Ponce De Leon amusement park, and stretches across 17 acres. Considered a green space amidst the hustle and bustle of a busy city, the park features a pond, a skate park, a splash pad and playground, and an amphitheater in addition to the walking trails.
Ponce City Market
Set in an old Sears building, Ponce City Market is a modern, industrial space featuring shopping, food, and living spaces. Entry is free, and the market also has a rooftop park with carnival games and stunning views of the Atlanta skyline.
Address: 675 Ponce De Leon Ave NE, Atlanta, GA 30308
The Atlanta BeltLine
The BeltLine comprises 22 miles of modern trails, and is located right next to Ponce City Market. During your walk or bicycle ride, see street art, sculptures, and tons of food and shopping experience along the trails.
Address: 112 Krog St NE #14, Atlanta, GA 30307
Grant Park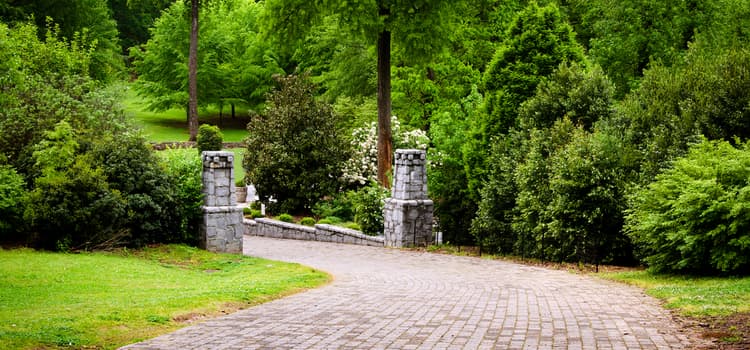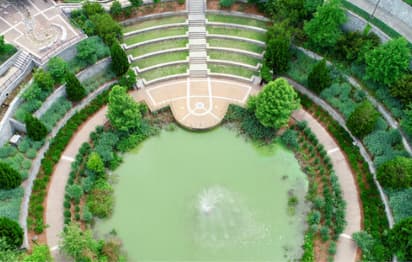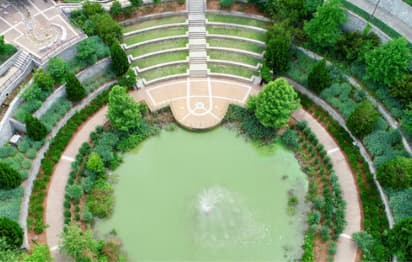 Grant Park is a 131-acre green space and recreation area located in the Grant Park area of Atlanta. The park is located in one of Atlanta's oldest and most historic districts, and even boasts Martin Luther King Jr.'s childhood home, which is now a museum available to the public. The park also has the largest remaining area of Victorian architecture within the city.
Below are two places in Grant Park you will not want to miss:
Zoo Atlanta
Zoo Atlanta, located in the heart of Grant Park and serving as its biggest attraction, is one of only three zoos in the country that houses giant pandas. You can also see other zoo favorites such as giraffes, gorillas, zebras, bears, tigers, and more.
Address: 800 Cherokee Ave SE, Atlanta, GA 30315
Oakland Cemetery
Founded in 1850, the Oakland Cemetery hosts haunting and unique gravestones and is the final resting place for many notable Atlanta people. One notable person buried at the cemetery includes Margaret Mitchell, author of Gone With The Wind.
Address: 248 Oakland Ave SE, Atlanta, GA 30312
Book now with Atlanta Charter Bus Company
Atlanta is a beautiful city with lots to see and explore. But like any major city, parking and logistics can prove to be a pain. Sit back and relax, and let Atlanta Charter Bus Company whisk you and your group off to some of Atlanta's best hotspots with ease in one of the buses we charter. Give us a call any time at 404-474-7769 and we will help you get started!
Do you need to rent a charter bus?
We can help. Call us any time at 404-334-7202 to reserve your bus today!