The Group Guide to Visiting Atlanta's Best Breweries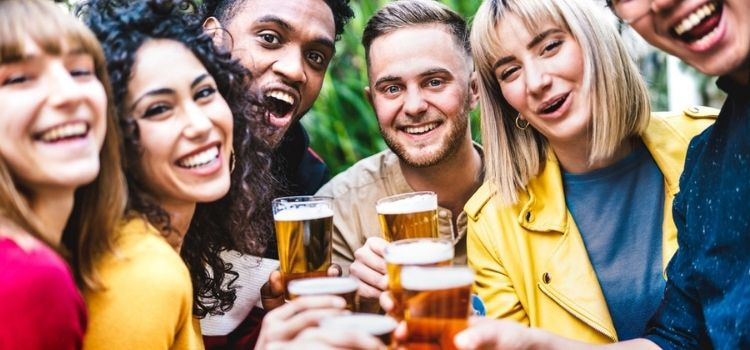 Hunting for the best brewery experience in Atlanta? Hunt no more. Atlanta Charter Bus Company has the definitive guide to all the Atlanta breweries we love most for their tasty tap list, beautiful communal spaces, and all-around potential for a great group gathering or event.
A brewery is often the perfect spot to host an event like a corporate outing, wedding, or private party in Atlanta, and most of the city's best are found in industrial complexes and retro-fitted warehouses big enough to fit barrels and casks alongside folks playing cornhole and clinking glasses. You'll find communal gathering spots around taprooms both big and small in this city!
If you're planning a trip to an Atlanta brewery, we can provide you with reliable group transportation to make travel simple and stress-free. Let us know all about your trip or event, and we'll pair you with the perfect type of charter bus and a professional driver so your guests get to the Atlanta brewery and home again safely, comfortably, and on-time.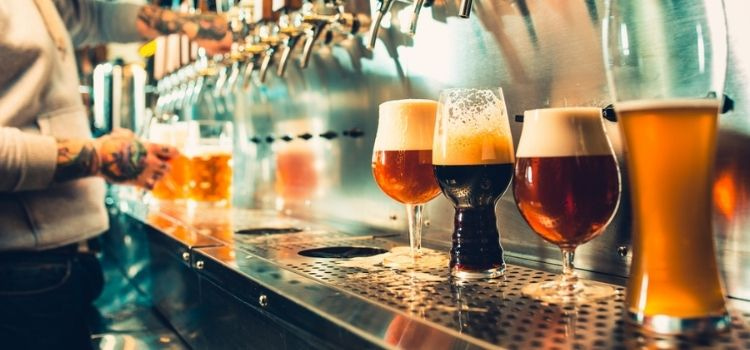 Ready to explore the best of Atlanta's brewery scene? Read on for the down-low on everything you need to know about breweries in Atlanta.
The Top 5 Atlanta Breweries to Grab a Cold One
With so many worthy places for a flight or a pint, it's not easy to distill Atlanta's best breweries down to just a handful of notable spots. But, if you're planning a single event or only have time to tour one or two breweries, we can guarantee you won't go wrong choosing one of these five:
1.   SweetWater Brewing Company
Address: 195 Ottley Dr NE, Atlanta, GA 30324
Loved for: Relaxed and friendly vibes n' flavors, cornhole by the patio on a sunny day, and their commitment to raising funds to protect Georgia's waterways.
Don't leave without trying: the hoppy SweetWater IPA; Goin' Coastal IPA (with pineapple); or 420 Extra Pale Ale.
This popular hoppin' spot on the Atlanta Beltline has beer aficionados always coming back for more. Visit the taproom and kitchen to sample year-round and seasonal ales, stouts and seltzers, and munch on bar bites like SweetWater Poutine and tater tot nachos topped with beer cheese made with their 420 Extra Pale Ale.
While they don't do reservations, they do offer a "VIP Deal" for groups of 20 or more when you email their events team. If you're planning an event, you can pick whatever space best fits your vib.  The Woodlands barrel aging facility is a refined room for a corporate event, while The Reel Room (which can accommodate up to 450 people) is large enough for a big wedding.
2.   New Realm Brewing
Address: 550 Somerset Terrace NE Unit 101, Atlanta, GA 30306
Loved for: A fully stocked event calendar, globally-inspired Southern-style dining, and the best vantage points for BeltLine people-watching.
Don't leave without trying: Hoplandia IPA; United Craft Lager; Below Low-Cal Hazy IPA
At New Realm Brewing on the BeltLine, you'll always have a reason to stop by and try whatever new brew is on tap. Every evening, there's a public event like Dirty South Trivia on Mondays and Music Bingo on Wednesdays, or live music and comedy shows on weekend nights. Go before a show and grab a flight of staples and seasonals and a bar bite or two, like sriracha-smothered Asian-style loaded fries, BBQ shrimp open-faced tacos, or a wood-fired pizza.
In the market for an event space in Atlanta that's sure to impress your guests? We recommend New Realm Brewing's rooftop terrace. With panoramic BeltLine and Atlanta skyline views, this trendy private party spot can fit up to 90 folks seated (170 standing) and includes a heated option for the winter months.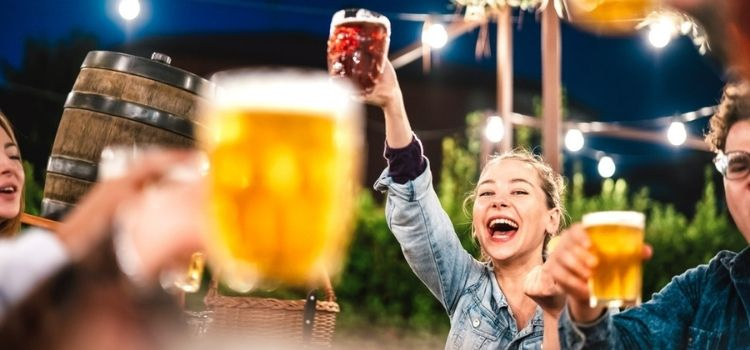 3.   Monday Night Brewing Company
Address: 670 Trabert Ave NW, Atlanta, GA 30318
Loved for: A dog-friendly patio, the famous wall adorned with dozens of neck-ties, and incredibly hoppy beer options.
Don't leave without trying: Slap Fight IPA; Drafty Kilt Scottish Ale; Taco Tuesday Mexican Lager
The West Midtown location of Monday Night Brewing is the brewery's original brewhouse and home of the "Hop Hut," where you'll find their IPA-focused beers. If you're an adventurous drinker with a taste for hops (and a professional charter bus driver as your designated driver) go to the "Hop Hut" and grab a can of a limited edition, high ABV beer (like CBD-infused, double, and triple IPAs) that you'll only find for sale there.
You can host a small-scale event here at the rooftop terrace for a private and intimate gathering, but if you really want to throw a party right in ATL, check out the event spaces at Monday Night Garage.
3, too. Monday Night Garage
Address: 933 Lee St SW, Atlanta, GA 30310
Here's an ATL CBC insider tip for you: if you're planning a group gathering for one night and one night only, host it at Monday Night Garage, Monday Night Brewing's barrel-aged and souring outpost at the Lee + White development complex in the West End. They have three communal spaces to choose from, including the industrial chic Chandelier Room, a 5,000-sq-ft warehouse space adorned with dozens of warm-glowing chandeliers.
And not only will you get to sample some of Monday Night's tastiest, limited edition concoctions, but after your event, your group can explore everything else Lee + White has to offer. Grab some kombucha and a cheese board at Cultured South, cool off with a sweet scoop from Honeysuckle Gelato, or sample some brews from other notable brewery outposts like Wild Heaven Beer and Best End Beer. And the best part? Parking is very charter bus-friendly here!
4.   Bold Monk Brewing Co.
Address: 1737 Ellsworth Industrial Blvd NW Suite D-1, Atlanta, GA 30318
Loved for: a cozy and inviting atmosphere, Belgian-inspired brews and foods that keep you coming back for more, and a communal event space complete with a bookstore.
Don't leave without trying: The Way Tripel; Walk On Water Witbier; Shared Spirit IPA
Bold Monk Brewing Co. is more than just a brewpub—it's a drinking and dining experience in Atlanta's Upper Westside serving brews and bites worthy of worship. You'll enjoy a year-round and seasonal selection of Belgian-inspired beers, but also a curated selection of wine and craft cocktails on the menu. And with a food menu featuring items like hickory-smoked ribs and "frites," Dutch bitterballen, crispy brussel sprouts, and beer fudge Belgian waffles with ice cream, you'll definitely want to stay for dinner (and dessert).
Host a party here to enjoy everything The Bold Monk has to offer, from beer and upscale bar food to a bookstore and artisan coffee and tea. You can gather your group in your choice of five distinct event spaces, both inside and out. Consider the warm and intimate Beer Cellar for a corporate meeting or low key celebration, or opt for the lofty Abbey for family-style tables and bookstore browsing.
5.   Orpheus Brewing
Address: 1440 Dutch Valley Pl NE, Atlanta, GA 30324
Loved for: its proximity to Piedmont Park, an expertly-crafted selection of sour ales, and a "Dogs and Sausages" menu made with humanely-raised meats from the local The Spotted Trotter charcuterie house.
Don't leave without trying: Atalanta Tart Plum Saison; Transmigration of Souls Double IPA; Do Or Die Oatmeal Cream Stout
For a quintessential beer-drinking experience in Atlanta, head to Orpheus Brewing near Piedmont Park. They're well known for their signature sour ales, and are always brewing tart and tasty concoctions like a lemon-lime berliner-weissner or a pineapple and vanilla sour ale. But that's not all you'll find on the menu: try a house-brewed stout, IPA or barleywine, and pair it with a tasty selection of their "Dogs and Sausages," like Beer Brat (topped with jus sauce, BBQ sauce and fried onions) or the Veggie Dog (topped with peppers, onions, and spicy beer mustard). An event hosted here is a real treat for guests who get to enjoy time in the beer garden overlooking Atlanta's picturesque Piedmont Park.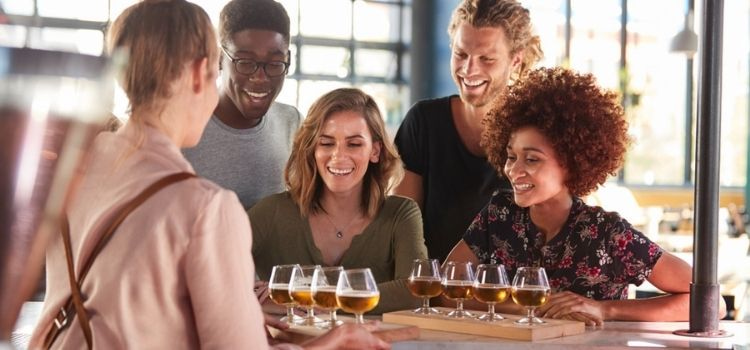 Some of ATL's Other Favorite Breweries
While you'll find Atlanta locals holding up at the Top 5 breweries any day of the week, these honorable mentions are locally loved for their unique brews, beautiful event spaces, and awesome atmospheres. There are also a fair few brews you'll find on ATL's radar that lie outside the perimeter in nearby Georgia towns and cities, and are well worth the road trip.
Hippin' Hops Brewery and Oyster Bar
Address: 1308 Glenwood Ave SE, Atlanta, GA 30316
A Black-owned brewery found in East Atlanta Village, Hippin' Hops is a new kid on the brewery block in ATL that's already made an amazing name for itself. Their beer list includes artful and uniquely flavorful brews, like the School Daze "Strawberry Milkshake" IPA and The Cookout smoked pecan malt. Come here for a pint of your choice, but stay to sample their amazing menu featuring bites like Oyster Rockefeller, Shrimp & Belgian Waffles, and an Alligator Po'Boy. Yum.
Three Taverns Craft Brewery – The Imaginarium
Address: 777 Memorial Drive SE Suite B103, Atlanta, GA 30316
While The Imaginarium is Three Taverns second location, we recommend it for its experimental beer menu, proximity to the BeltLine, and spacious location complete with a yard and retail space. They're always brewing a number of tasty and memorable beers, but their sour ales tend to sing above the rest. Grab a pour of Enchantress, a cranberry-sauced sour ale with cinnamon and clove, or Lord Grey, an Earl Grey tea sour ale.
Fire Maker Brewing Company
Address: 975 Chattahoochee Ave NW, Atlanta, GA 30318
Ranked #2 Best Brewery in America by USA Today, Fire Maker has started strong on the ATL brew scene. It's revered for its strong core values of F.I.R.E.: Family, Integrity, Revelry and Enthusiasm—which are easy to see reflected in the quality of their beers. When you go here, we recommend ordering a flight to sample the best of what this brewery has to offer. Consider the Way Down Yonder Leisure Lager, Perfect Match American IPA, Hazed & Blazed New England IPA, and Chattahooch-Tea Southeastern IPA for your flight.
Creature Comforts Downtown Taproom and Brewery
Address: 271 W Hancock Ave, Athens, GA 30601
Take a skip and a hop away from Atlanta to Athens, GA and you'll find where the magic happens at Creature Comforts Brewing Company. While they're always brewing new and delicious sips, some of our favorite main-stay beers include the smooth and bright Tropicalia IPA and the refreshing, German-style wheat beer, Athena. Treat your taste buds to flavors you won't find anywhere else and head to the "Curiosity Bar" for an Athena Infusion or Beermosa. (We recommend a pint of Athena mixed with blueberry-thyme or strawberry habanero!)
Terrapin Beer Co. Brewery & Taproom
Address: 265 Newton Bridge Rd, Athens, GA 30607
If you've never toured a brewery, Terrapin Beer Co. in Athens is one of the best places to do it. Tours are free, and 16 oz. pints are $5 a piece. We recommend going for the $12 Terrapin Taster, a flight of six 6 oz. samplers and a souvenir pint glass that you can fill up with your favorite when you're finished tasting. Our go-to brews are the Hopsecutioner IPA, Luau Krunkles passion fruit/orange/guava IPA, and the Recreationale LoCal IPA. Rent a charter bus and bring a group here for an OTP, off-site event at Terrapin's spacious outdoor lawn, perfect for outdoor games and enjoying the Georgia sun. (They also have bus parking on site!)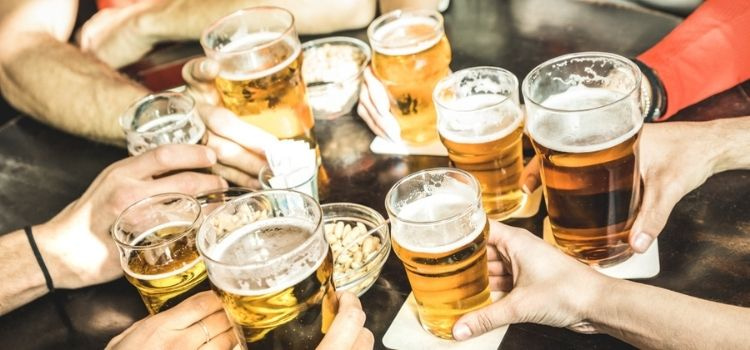 Rent a Bus to a Brewery Event in Atlanta
Ready to lay your Atlanta brewery trip plans to rest? Call Atlanta Charter Bus Company at 404-474-7769, and tell us all about your event, group, and ideal itinerary. When you call, we'll provide you with a free, no obligation quote for your trip to get you started!
Do you need to rent a charter bus?
We can help. Call us any time at 404-334-7202 to reserve your bus today!