Atlanta "Deep Cut" Destinations for Frequent Travelers
If you've been to Atlanta a few times, you've probably already seen standard tourist spots like the Georgia Aquarium and World of Coke. Don't get me wrong, these are great spots for first-time Atlanta visitors, but there's so much more to see in the city!
Groups looking to explore a few attractions off the beaten path can iron out transportation and traffic woes with a charter bus rental. Atlanta Charter Bus Company offers group transportation services for visitors traveling anywhere across the A for a variety of trips. Travel across Atlanta and explore some of its hidden gems during a private group vacation, special birthday celebration, or any other group occasion. Atlanta Charter Bus Company book your group a private minibus rental with a professional driver and convenient features like WiFi and plush seating for a smooth ride across Atlanta. Give the team a ring at 404-474-7769 with any questions you may have about booking a bus and Atlanta charter bus rental pricing.
As you plan your umpteenth Atlanta group trip, consider adding one (or a few) of these destinations to your itinerary:
Tiny Doors ATL
Address: varies
Phone: (404) 528-8017
Tiny Doors ATL proves that big surprises can come in small packages. Artist Karen Anderson Singer started this project by creating 7-inch door sculptures that reflect the spirit and uniqueness of different Atlanta neighborhoods. The first door was created in 2014 near Atlanta's Krog Street Tunnel. Today, there are over 20 doors scattered throughout the city's neighborhoods and a few special doors can be found at local attractions like the Atlanta Botanical Garden and Centennial Olympic Park.
Guided bike tours can be booked for groups to explore a few Atlanta neighborhoods and their magical tiny doors. Bike tours are 3 miles or 12 miles, which may be too intense for some visitors. If you're worried about getting burned out on bikes or want to see as many doors as possible, a private bus rental may be your best transportation option. You can shuttle around town on your own time without breaking a sweat!
Charter bus travel tip: Booking a compact 18-passenger minibus rental is the best option for private groups to see Atlanta's Tiny Doors. A minibus will give you a comfortable option as you shuttle around the city but will also be easier to park (than a larger model of bus) in busy neighborhoods.
Buford Highway Restaurants
Address: varies along Buford Highway (SR-13)
Phone: varies
Looking for authentic international cuisine? Head over to this 6-mile stretch of road! Whatever you may be craving, you'll find it on Buford Highway alongside local businesses and international markets. Chow down on Cuban, Ethiopian, Vietnamese, Mexican, Malaysian, Venezuelan, and Bangladeshi fare, just to name a few. Immersing yourself in authentic international cuisines is one of the best ways to learn about different cultures while still in the United States. Atlanta's Buford Highway is a melting pot of culture and is full of hidden gems that are sure to satiate any and all palates.
Charter bus travel tip: You can easily spend hours on a self-guided foodie tour of Buford Highway Restaurants. As you plan out where to eat, be sure to take a look at parking options and how busy the restaurant gets. Many small businesses on Buford Highway may have limited parking on busy days and you'll need to consider alternative parking options for your charter bus.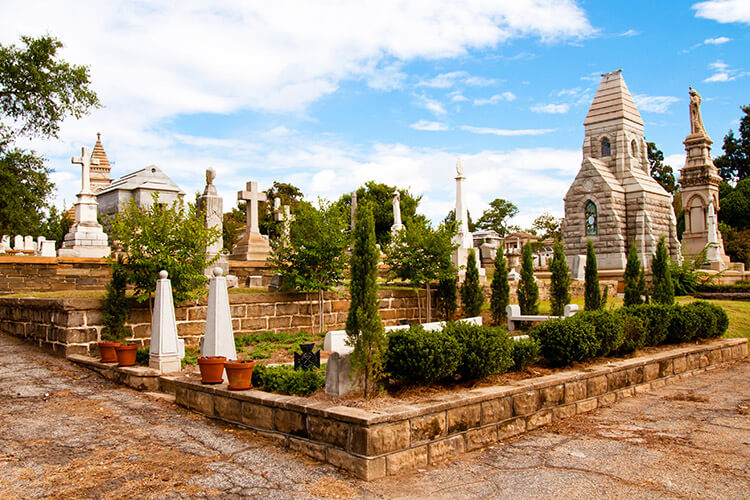 Oakland Cemetery
Address: 248 Oakland Ave SE, Atlanta, GA 30312
Phone: (404) 688-2107
Visiting a cemetery may sound macabre, but Oakland Cemetery is Atlanta's oldest public park and one of the most beautiful locations in the city. It opened in 1850 as Atlanta Cemetery with just 6 acres. The cemetery was renamed in 1862 for its gorgeous towering trees and later expanded to 48 acres. Oakland is an example of Victorian- and garden-style cemeteries, making it a must-see spot for groups interested in architecture, history, and native flora. A few of the cemetery's famous residents include author Margaret Mitchell, famed golfer Bobby Jones, and country music legend Kenny Rogers. Stroll through the beautiful park, pay respects to its residents, and take in a unique piece of Atlanta history. Guided private tours are available by reservation and special events like local music festivals are hosted throughout the year.
Charter bus travel tip: Oakland Cemetery has a parking lot for visitors but charter bus rentals may not be able to fit here. Additional street parking can be found directly outside of the cemetery's main entrance on MLK Jr Dr SE and Biggers St SE.
SCAD FASH Museum of Fashion + Film
Address: 1600 Peachtree Rd NW, Atlanta, GA 30309
Phone: (404) 253-3132
Visiting the SCAD FASH Museum of Fashion + Film is a must for anyone interested in fashion and fashion history. The museum is located inside the Savannah College of Art and Design, Midtown Atlanta campus, and is relatively affordable at $10 a ticket for general admission. Guided tours, film screenings, gallery talks, and lectures are available for groups by reservation.
It's a small yet unique museum with rotating exhibits displaying costumes from award-winning films and pieces from famed fashion designers. Past cinematic-related exhibits have included textile work from Black Panther, Titanic, Pride and Prejudice, The Handmaid's Tale, and Downton Abbey. Designer- and icon-specific exhibits have covered the loves and work of André Leon Talley, Guo Pei, Oscar de la Renta, and Azzedine Alaïa.
Charter bus rental tip: Parking for SCAD FASH is found on the fourth floor of the school's main parking garage. However, if you're traveling in a charter bus, you'll need to organize oversized parking in advance with SCAD.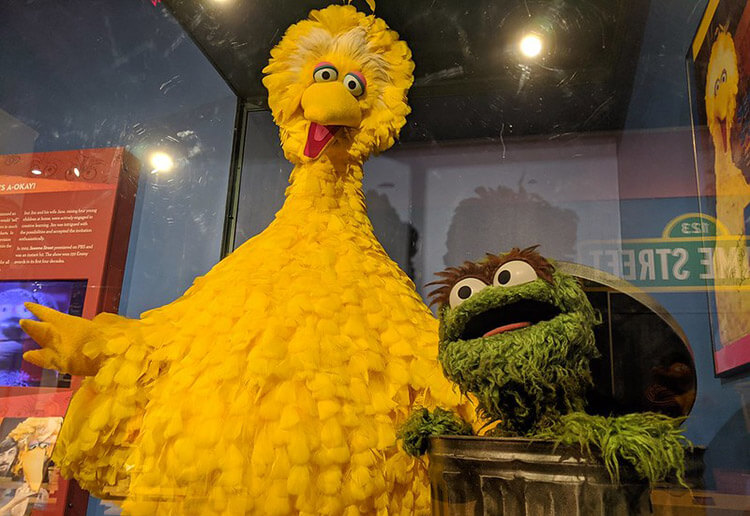 Center for Puppetry Arts
Address: 1404 Spring St NW, Atlanta, GA 30309
Phone: (404) 873-3391
The Center for Puppetry Arts may not necessarily be a "hidden gem," but it is one of Atlanta's lesser-frequented attractions that deserves more attention. Atlanta's Center for Puppetry Arts is the country's largest organization dedicated to the preservation and education of the puppetry art form. The center offers performances, programs, and exhibits that are sure to be loved by children, adults, or anyone that enjoys puppetry. Exhibits cover the history and culture of puppetry forms from around the world. Collections include iconic Muppets and Sesame Street puppets from famed artist Jim Henson, Macy's Thanksgiving Day Parade puppets crafted by Tony Sarg, and traditional Japanese Bunraku puppets from master puppeteer Kiritake Kanjuro III.
Groups interested in catching a performance can book tickets for a Family Series production. These productions are kid-friendly and are sure to delight everyone during a field trip, private family trip, or another occasion. Older groups can reserve tickets for a New Direction Series production, which typically includes mature content appropriate for older teens and adults. Tickets to shows include admission to the museum beforehand.
Charter bus travel tip: The Center for Puppetry Arts is located in Atlanta's lively Midtown neighborhood, where free parking is generally limited. Some free on-site parking can be found behind the center but this may be full during your visit. Call ahead to inquire about on-site parking options for your charter bus. If there won't be parking on-site, your group can be dropped off at the entrance on 18th Street before your driver parks off-site.
Explore Atlanta's Hidden Gems with a Charter Bus
Whenever you're ready to book transportation for your Atlanta trip, give the Atlanta Charter Bus Company team a call at 404-474-7769. You'll have sleek and smooth transportation from stop to stop on your tour of the city's "deep cut" destinations and hidden gems.
Do you need to rent a charter bus?
We can help. Call us any time at 404-334-7202 to reserve your bus today!