Top LGBTQ+ Hotspots in Atlanta
In the deep south, you wouldn't think a place like Atlanta would have a strong LGBTQ+ presence. But ATL is a diverse city with tons of places, events, and businesses that are organized and frequented by members of the community.
Whether you're a campus organization planning an outing with your club or resource office or a group of friends looking to see the sights, Atlanta Charter Bus Company can help. We'll connect you with a stress-free bus rental that's just the right size for your number of passengers and has all the amenities to keep everyone comfortable. Beat the heat with crisp AC, watch your favorite queer films with TV screens and a DVD player, and relax on the way to these top LGBTQ+ hotspots in Atlanta.
LGBTQ+ Events, Festivals, and Fundraisers
Mark your calendars, because Atlanta has plenty of queer celebrations and get-togethers to keep your group's agenda full all year-round: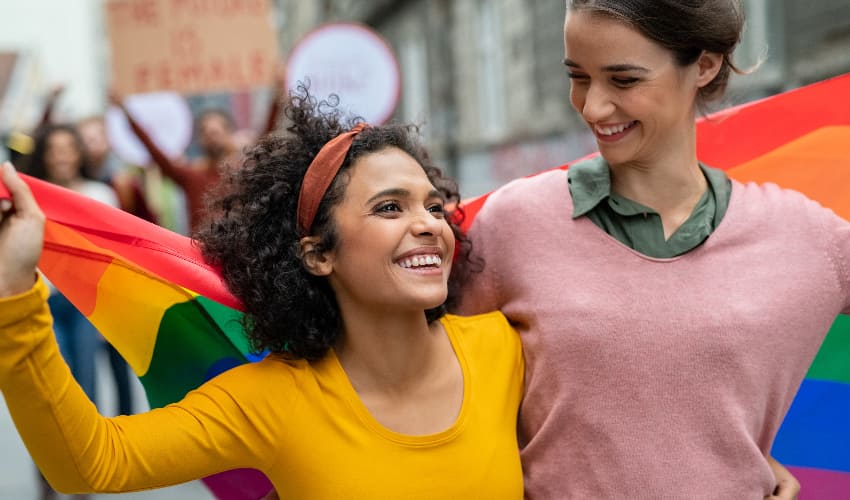 Atlanta Pride Festival
October
Atlanta Pride takes place over an entire weekend in early or mid-October (around National Coming Out Day and when the temperatures are hopefully below 90 degrees). The festivities include mini parades to celebrate specific identities—like the Trans March and the Bi & Pan March—and the main event: the Atlanta Pride Parade. While the exact parade route is subject to change, in the past it kicked off near the Civic Center MARTA station, proceeded north along Peachtree Street NE and 10th Street, and ended with a loud and fun festival in Piedmont Park.
Charter Bus Tip: Due to road closures, navigating to and from the festival grounds in a caravan of cars can be very tedious. To avoid getting split up, separated, or lost, we recommend renting a minibus shuttle that can drop you off near the action. That way, no one has to sweat the parking situation and you can focus on the parade!
Black Gay Pride
Labor Day Weekend
Fun fact: Atlanta has one of the largest communities of Black same-sex couples in the world. So it makes sense that the world's biggest Black gay pride celebration takes place here! Come celebrate with 100,000 of your closest friends by marching or watching the parade and dancing to performances by queer Black artists at the festival in Piedmont Park.
Out on Film
September or October
One of the oldest LGBTQ+ film festivals in the country, Out on Film strives to bring provocative and intersectional films and titles that otherwise wouldn't receive recognition to local big screens. Screenings usually take place in various venues around Midtown—secure your ride plan early so your movie buffs have a reliable shuttle service to every theatre.
AIDS Walk Atlanta
October
For over 30 years, AIDS Walk Atlanta has raised funds for ATL-based shelters, medical centers, and nonprofits dedicated to AIDS research and resources. Groups of all kinds are invited to participate in the 5K walk or run, concluding with musical performances. If your running buddies would like to participate, Atlanta Charter Bus Company can provide an air-conditioned charter bus with lots of space for coolers and room to stretch your legs.
Toy Party
December
This fundraiser is often considered Atlanta's biggest, gayest holiday soiree. Bring an unwrapped toy with you as a donation, and you can dance the night away and sip elegant cocktails with some of ATL's most high-key philanthropists. All toys go to local family and youth centers as holiday gifts for kids in need.
Educational Attractions
As far as museums and monuments dedicated to LGBTQ+ people, Atlanta has very few destinations to offer. That being said, there is one place we have in mind if you want to add an educational stop to your group's itinerary:
National Center for Civil and Human Rights
Address: 100 Ivan Allen Jr Blvd NW, Atlanta, GA 30313
Here you'll find one of very few places in the world dedicated to bridging the historical American Civil Rights Movement to the contemporary struggle for Human Rights. Exhibits cover a variety of relevant topics, from Morehouse College's collection on Martin Luther King Jr to ongoing human rights crises from around the world. Groups of 10 or more can save on admission by purchasing tickets in bulk, so call ahead before bringing your college organization or nonprofit group.
Charter Bus Tip: The center is located in the heart of downtown, in the same block as  famous attractions like the World of Coca-Cola and the Georgia Aquarium. In other words, parking a bus rental here is tricky. Have your driver drop everyone off near the center and reserve a spot in the nearby Georgia World Congress Center bus lot.
Queer-Owned and Allied Stores
If you've got cash to burn and want to support local LGBTQ+ businesses, here are some destinations for your crew's next shopping spree: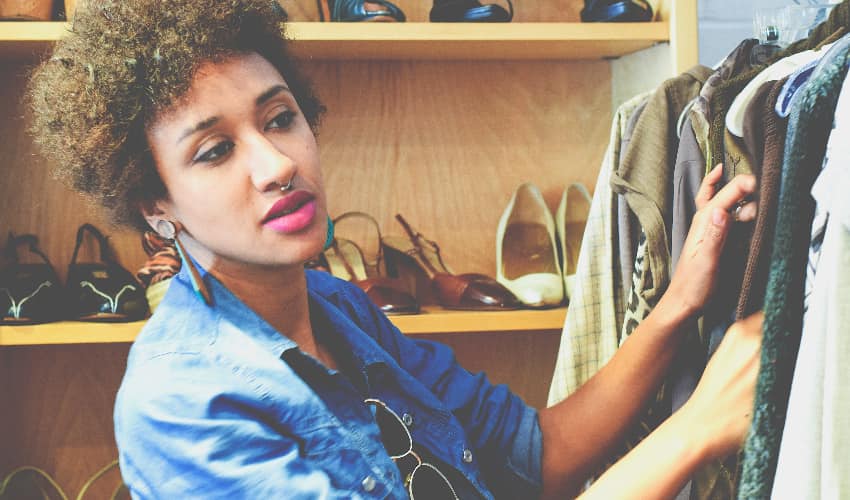 Boys Next Door Menswear
Address: 1447 Piedmont Ave NE, Atlanta, GA 30309
This Piedmont Heights clothing shop has provided fashionable suits, casual outfits, and swimwear for gay men for over 40 years. With inclusive sizing and a body-positive sales team, Boys Next Door is a great place to find your new favorite piece of clothing and a loving sense of community.
Lost-n-Found Thrift Store
Address: 2585 Chantilly Dr NE, Atlanta, GA 30324
What's better than thrifting? How about thrifting for a good cause! All proceeds generated in this Lindridge thrift store go to Lost-n-Found—a local organization that aids homeless LGBTQ youth. It's open to the public most days between 10 a.m. and 7 p.m. and features donated clothing, accessories, and more.
Junkman's Daughter
Address: 464 Moreland Ave NE, Atlanta, GA 30307
While this alternative store is not explicitly queer-owned, it is very queer-friendly and a great spot if you're into eclectic fashion or knick-knacks. From sparkly rainbow stilettos to vibrant prints from local LGBT artists, if it's weird and off-the-wall, you can likely find it here. Be sure to stop for a group selfie outside with the storefront's flashy mural as your backdrop!
Charis Books and More
Address: 184 S Candler St, Decatur, GA 30030
Advertised as an independent feminist bookstore, this quaint shop curates a diverse selection of reads. Check out the big wall of books written by queer authors or pop in for the monthly LGBTQ+ book club meeting.
Charter Bus Tip: Despite being located in a historic building, Charis Bookstore is fully wheelchair accessible. If your wheelchair users want to pick up a few books, Atlanta Charter Bus Company can find you an ADA-complaint motorcoach rental with a lift and plenty of room to secure your mobility aids while on the road.
Atlanta's Best Gay-Owned Restaurants
Everybody eats, so everyone can enjoy the fare from these local gay-owned eateries: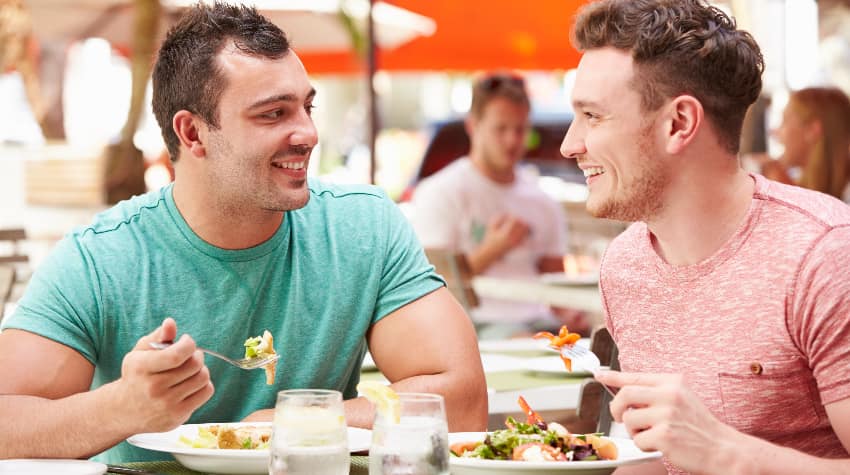 Henry's
Address: 132 10th St NE, Atlanta, GA 30309
The spacious patio area at this gay-owned eatery is perfect for springtime lunch gatherings. Throw in comfort food options like BBQ baby back ribs, burgers, or a round of tacos for the table, and your group is sure to leave satisfied.
ROXX Tavern
Address: 1824 Cheshire Bridge Rd NE, Atlanta, GA 30324
Sunday brunch and daily specials? Yes please! Pull some tables together on the shady patio and pick from a menu of crowd-pleasing favorites, including fried chicken wraps, low country boils, and sausage plates.
La Hacienda
Address: 900 Monroe Dr NE, Atlanta, GA 30308
Located just a few blocks from Piedmont Park, this Mexican restaurant has become a post-Pride Parade favorite among Atlanta's queer community. Expect generous portions, friendly staff, and authentic flavors if you plan to eat at this Midtown mainstay.
LGBTQ+ Nightlife in Atlanta
Planning a 21st birthday bash for your queer friend? A last hurrah for your bachelor, bachelorette, or newlywed-to-be? A weekend outing, just for funsies? Let Atlanta Charter Bus Company set you up with a club-hopping bus rental and a pro driver, so everyone has a built-in DD to these popular bars and nightclubs: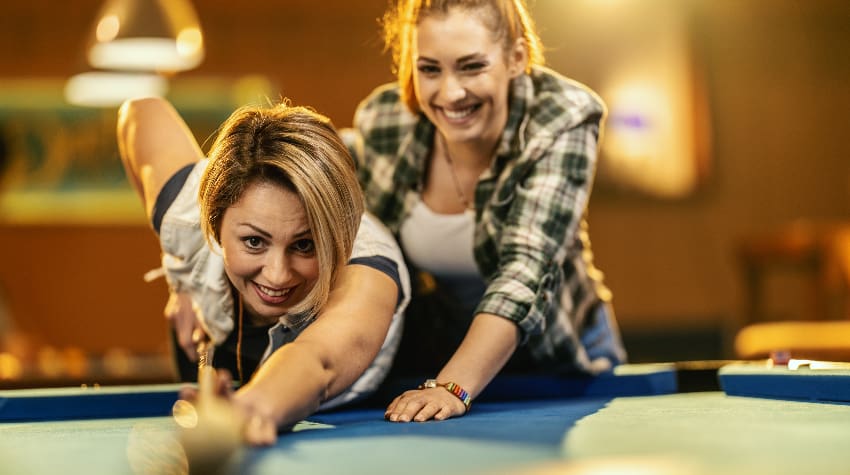 My Sister's Room
Address: 84 12th St NE, Atlanta, GA 30309
Lesbian clubs are hard to come by—especially in the Southeast. Even so, this lesbian-owned bar has been one of the most popular in the region for over 20 years for a number of reasons. Regular drag shows, burlesque nights, improv and open mic comedy nights, karaoke—whatever your group of queer ladies wants in a fun night out, this place delivers.
Woofs Sports Bar
Address: 494 Plasters Ave NE, Atlanta, GA 30324
There is exactly one gay sports bar in Atlanta, and this is it! It's conveniently located close to downtown, so there's sure to be an unofficial afterparty here following the Peach Bowl or an Atlanta United Game.
The Heretic
Address: 2069 Cheshire Bridge Rd NE, Atlanta, GA 30324
With rotating theme nights and a touch of leather, this landmark gay club is perfect for dancing the night away with friends. It's also a popular venue for drag shows and up-and-coming DJs, so you're sure to find fresh acts and entertainment if you happen to swing by.
Joystick Gamebar
Address: 427 Edgewood Ave SE, Atlanta, GA 30312
If your group isn't into all-night dance parties or high-energy clubs, consider stopping by this casual gay-owned videogame bar for a few drinks. Here, you'll find classic arcade cabinets, pinball, and foosball tables, as well as plenty of space to start a relaxed tabletop game.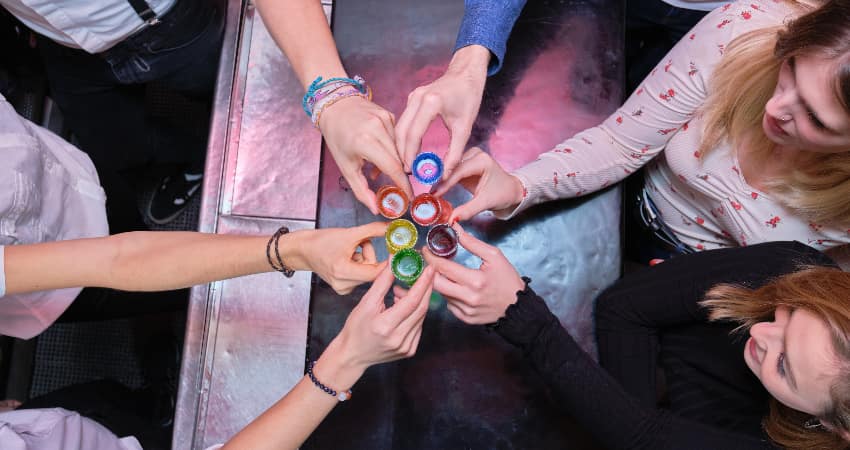 Explore LGBTQ+ Hotspots in Atlanta
Ready to hit the road? Let Atlanta Charter Bus Company take the wheel. Our 24/7 reservation team is always ready to assist you with every step of renting a charter bus, from answering your transportation questions to offering a free and personalized quote! Call 404-474-7769 today to start planning your next LGBTQ+ group outing in Atlanta.
Do you need to rent a charter bus?
We can help. Call us any time at 404-334-7202 to reserve your bus today!