The Atlanta Airport Guide for Group Travelers
Traveling with a large group of people through an airport takes proper planning, especially if you're flying through Atlanta, home to the world's busiest airport. Hartsfield-Jackson International Airport handles nearly 2,500 flights and 275,000 passengers a day, so whether your group is in town for a corporate event, wedding, or local sporting event, you'll want to keep everyone together and organized.
That's where we come in. From the moment you land in the city to the moment you leave for home, Atlanta Charter Bus Company is here to help make your group trip to Atlanta a safe, comfortable, and stress-free experience. Skip the hassle of rideshares and rental cars, and call 404-474-7769 to book your charter bus in Atlanta today.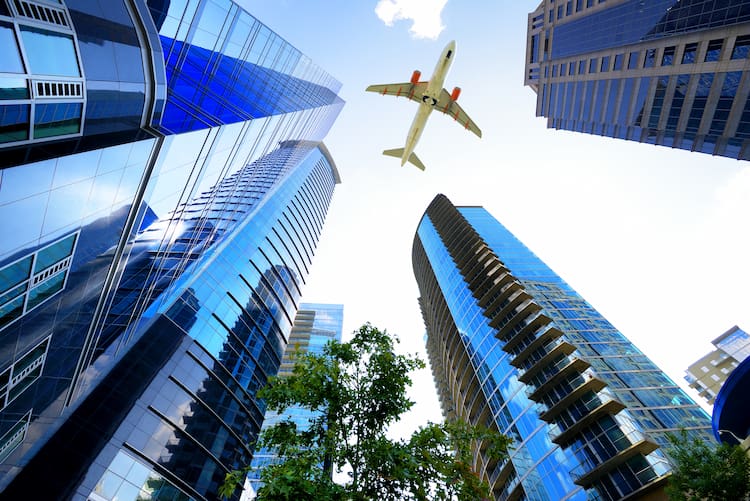 Domestic Terminal at Atlanta Hartsfield-Jackson International Airport
If you're flying in or out of Atlanta from anywhere in the United States, you'll be catching a flight from Hartsfield-Jackson International Airport's Domestic Terminal.
The Domestic Terminal is split into two sides—North and South—which connect to seven concourses (T, A, B, C, D, E, F) via The Plane Train. The South side of the terminal is dedicated to Delta Airlines check-in counters, and all other airlines are on the North side. All domestic flights board/deboard from Concourses T through E (with Concourse F for international flights.)
Where to load/unload your charter bus
Once you book your private Atlanta charter bus, you'll work with your bus driver to coordinate pick up and drop off times and locations at the airport. When getting picked up, your driver may either meet you inside the terminal near the atrium, or outside at your charter bus rental idling curbside on the South or North lower level.
On your way out of the city, the drop-off and unloading process should be as simple as your charter bus pulling up outside the check-in hub for your airline. There are designated zones for busses and shuttles, and your driver will know exactly where to drop you off. No extra shuttles or long walks from the parking lot are needed.
Services and Amenities
The atrium before security is home to a full-service SunTrust Bank and ATM, as well as an interfaith chapel on the third floor, and at Concourse E. Atlanta airport also has seven nursing stations/lactation pods for nursing mothers located at gates T7, B5, D34, and E Centerpoint. You'll also find service animal relief areas in every concourse. Additionally, free Wi-Fi is available anywhere in the airport.
FedEx Drop Boxes (Atrium, Gates C22, D15 and A, D, and E Centerpoints) and 24 hrs. SunTrust Bank ATMs (all Domestic Terminal locations) are available for any last-second needs before you board your flight.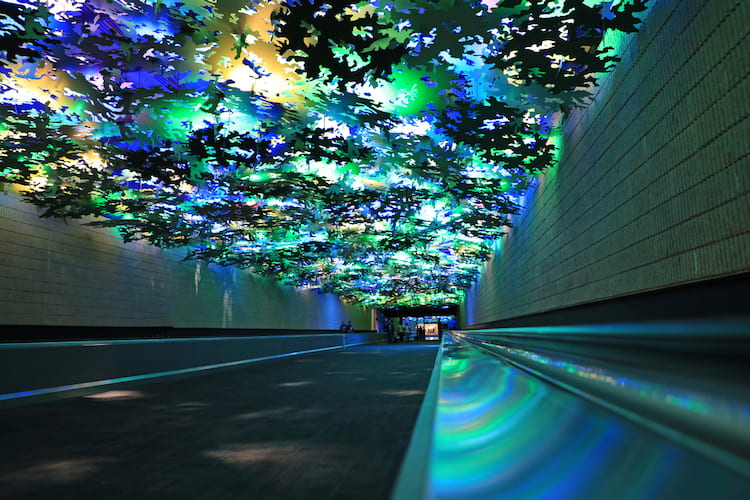 Airport Art
If you and your group find yourself with some spare time before your flight, it's well worth exploring Atlanta airport's specially curated art collection. You'll find over 1,000 artworks displayed throughout the airport, including permanent and rotating exhibits highlighting both local and international artists.
Instead of hopping on The Plane Train to your gate in Concourse T, A, B, or C, opt to guide your group on a stroll through the Transportation Mall to see three different permanent exhibitions. Check out Zimbabwe: A Tradition in Stone between Concourses T and A to marvel at sculptures by some of Zimbabwe's best-known sculptors, or walk between Concourses B and C to see A Walk Through Atlanta History. Curated by the Atlanta History Center, this exhibit illustrates Atlanta's history from the lives of Native American tribes to the 1996 Centennial Olympic Games.
Dining and Shopping
Atlanta airport proudly boasts ATL Skypointe, Hartsfield-Jackson's offering of more than 300 restaurants, shops and services. Each concourse offers its own unique selection of places to eat and shop, so you're sure to find something for everyone in your group.
Enjoy a sit-down meal at airport-outposts of local favorites like Grindhouse Killer Burgers (Gate T11, Gate D30), The Varsity (Gate C21) and Terrapin Tap House (Concourse D), or opt for some comfort-food favorites like Chick-fil-a, Five Guys Burgers and Fries, and Dunkin Donuts. If nothing in your concourse strikes your fancy, and you have a couple of hours before your flight, you can easily travel between each concourse using The Plane Train and find exactly what you're craving.
As for shopping, you'll find bookstores and newsstands, electronics stores, cosmetics stores and kiosks selling MAC and Kylie Cosmetics, and souvenir shops for last-second gifts to bring home.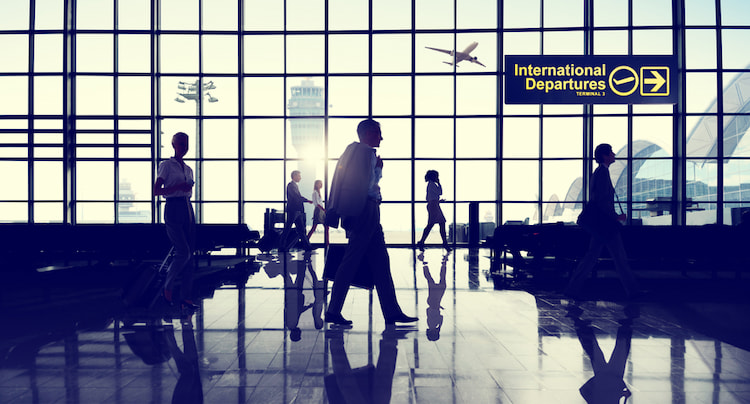 Maynard Holbrook Jackson Jr International Terminal
The International Terminal at Atlanta airport is located at Concourse F, and has a separate pick-up and drop-off lot from the domestic terminal. If you're headed in or out of the United States, you'll want to plan for your charter bus to pick you up and drop you off specifically at the International Terminal.
Where to load/unload your charter bus
You may coordinate with your driver to be dropped off at the International Terminal in front of your airline. However, for pick-up, you may need to take an Atlanta Airport shuttle that will connect to the domestic terminal and ground transportation area. It's important to discuss the details of your itinerary and your driver's capabilities in order to plan pick up and drop off at the international terminal adequately.
Services and Amenities
For your convenience at the International Terminal, you'll find helpful services like currency exchange centers and FedEx and UPS Drop Boxes, as well as an interfaith chapel, nursing stations, smoking lounges, and a service animal relief area.
And if you're traveling with children with special needs, you can enjoy a travel experience wholly unique to the International Terminal at Atlanta airport. The Sensory Room, located at Concourse F, is a multisensory room designed to provide a calm and supportive environment for travelers on the autism spectrum. The room includes a mini ball pit, bubbling water sculpture, and other items children can interact with to help calm and prepare them for their travel experience.
Dining and Shopping
ATL SkyPointe at Concourse F boasts eateries like Lorena Garcia Tapas Atlanta, ecco, and Pei Wei Asian Diner, as well as a Starbucks and Sweet Indulgences. If you want to kill some time shopping, check out Brookstone, TUMI or MAC Cosmetics.
If nothing at Concourse F fits your needs, you can hop on The Plane Train to any other concourse for additional dining and shopping options, and services.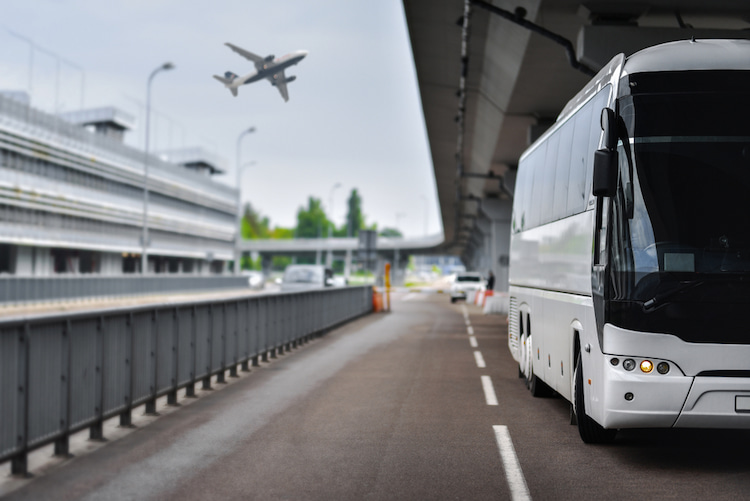 Start Planning Your Trip to Atlanta
Once you land, whether you're staying in the city or hitting the road to as far away as Augusta or Savannah, count on Atlanta Charter Bus Company to get you there—safely and comfortably. Call 404-474-7769 to book your private charter bus and schedule pick up or drop off at Atlanta airport today.
Do you need to rent a charter bus?
We can help. Call us any time at 404-334-7202 to reserve your bus today!