A Sports Fan's Guide to Atlanta
Sports are a big deal in most major cities throughout the Southern U.S. and Atlanta is definitely one of them! Atlanta is home to massive and modern sporting venues that are packed with crowds of fans throughout professional sports seasons.
Whether you're attending a pro game, college event, or you're just taking a tour of the venues, you can count on Atlanta Charter Bus Company for your group ride. Rent a charter bus for your Falcons fan club, UGA alumni group, or even for your Little League taking a field trip to Truist Park.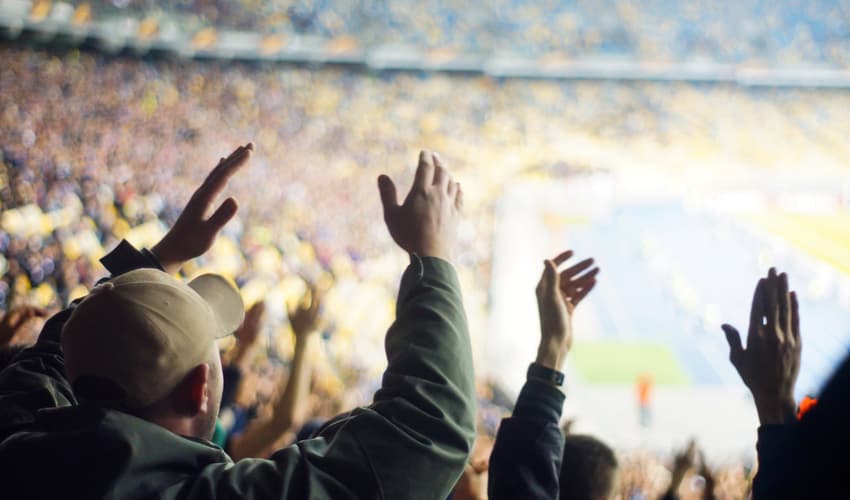 A private charter bus rental or minibus rental is one of the best ways to minimize stress on game day. You won't have to organize parking for multiple vehicles, handle gameday traffic, or struggle to find your group at the gates. Instead, with an Atlanta charter bus rental, you can sit back and relax on game day as a pro driver shuttles your entire group to the stadium. Reserving your game day shuttle bus rental is quick and easy, just call 404-474-7769! An Atlanta Charter Bus Company rental rep will be available 24/7 to help your fan club travel wherever you need to go.
Hop on your charter bus and ride to Atlanta's sporting venues or big events!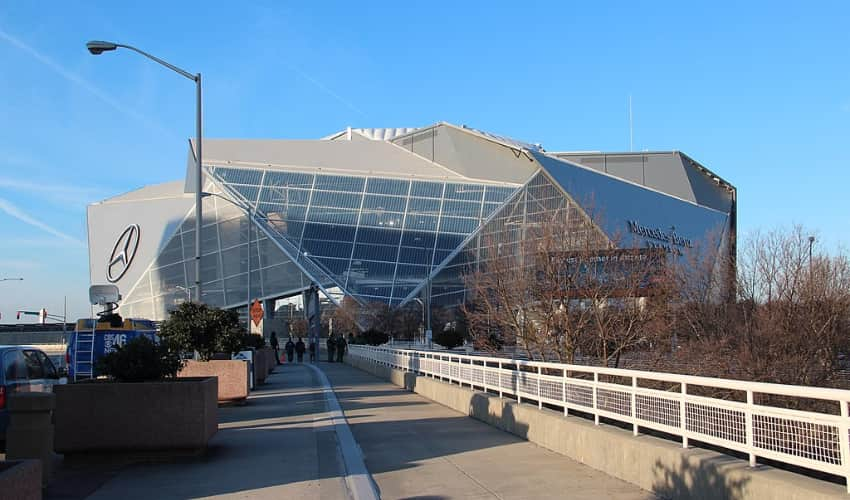 Atlanta Falcons and Atlanta United FC at Mercedes-Benz Stadium
Address: 1 AMB Dr NW, Atlanta, GA 30313
Phone: (470) 341-5000
The Mercedes Benz Stadium is one of the most impressive pieces of modern architecture in the region. This massive architectural marvel of a stadium holds up to 75,000 spectators, often packing every seat during major games for the Falcons or Atlanta United. Along with being home turf for Atlanta's teams during the normal season, the stadium has also hosted big events like the Super Bowl and collegiate games like the Peach Bowl.
Stadium tours are available for groups by reservation on days without games or events on the schedule. You can customize your tour to everyone's interest or your group's age range. Request an educational STEAM program tour for a school class, an architecture and engineering tour for curious minds, or an environmental and sustainability tour if you have a group of eco-minded sports fans.
Charter bus rental parking: Parking for personal vehicles during stadium tours is available in the Silver Deck of the Georgia World Congress Center (GWCC). Oversized vehicles like charter buses will need to park in the GWCC Marshalling Yard during tours. On gameday, charter buses will only be allowed to park in the Blue Lot.
Atlanta Hawks at State Farm Arena
Address: 1 State Farm Dr, Atlanta, GA 30303
Phone: (404) 878-3000
After major renovations in 2017, State Farm Arena stands as a state-of-the-art sports and concert venue. The arena is home to the Atlanta Hawks professional basketball team and once housed the Atlanta Thrashers NHL team and the Atlanta Dream WNBA team. State Farm arena has also hosted major sporting events like NBA All-Star Games and Ultimate Fighting Championship matches.
State Farm Arena does not generally offer tours. It does, however, host major non-sporting events like concerts by big names like Justin Bieber and family-friendly performances like Disney on Ice.
Charter bus rental parking: Many visitors often complain about traffic around the arena being a major deterrent to attending events. Rent a charter bus to simplify your travel and parking. You'll just have to contact the area prior to your visit at SFA.Parking@hawks.com to organize parking at the Centennial Yards or GWCC Marshalling Yard.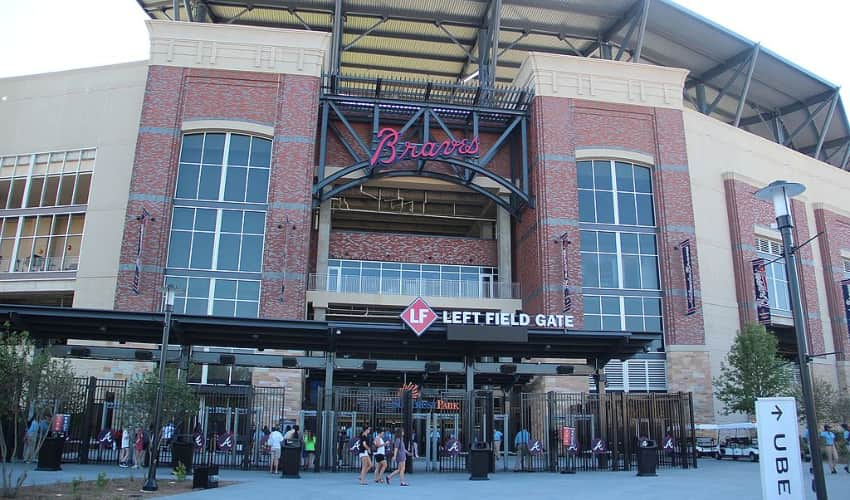 Atlanta Braves at Truist Park
Address: 755 Battery Ave SE, Atlanta, GA 30339
Phone: (404) 577-9100
Truist Park has been home to the Atlanta Braves Major League Baseball team since 2017. The Braves are one of the oldest professional sports teams in the country, and stopping to check out a game or tour their home turf should be a must for any baseball fan.
Group tours and educational experiences can be reserved online. During your tour, you'll see ballpark locations like the press box, sandlot, dugout, rooftop seating areas, and Monument Garden—which features beautiful sculptures documenting historic Braves moments.
There's also a multi-use shopping and entertainment center surrounding the park called The Battery Atlanta. Your group can shop for Braves merch at the Clubhouse Store, grab a refreshing sweet treat at Jeni's Ice Creams, or have a full sit-down meal at Yard House.
Charter bus rental parking: Gameday parking for vehicles with up to 15 passengers, parking must park at Braves Lot 29. All larger buses must park on Windy Ridge Road or along Interstate North Parkway after applying for a parking permit. Groups arriving for tours can have their driver park at the S1 lot adjacent to the Delta Deck.
Atlanta Dream at Gateway Center Arena
Address: 3667 Main St. College Park, GA 30337
Phone: (404) 857-1245
Gateway Center Arena opened in 2018 and has hosted numerous sporting events and concerts ever since. The Atlanta Dream WNBA team moved here in 2021 and the arena is also home to the College Park Skyhawks G-league basketball team. The arena is relatively small, only holding up to 5,000 people, but the facility is modern and well worth a visit for a basketball game or concert. Unfortunately, Gateway Center Arena does not offer tours at this time.
Charter bus rental parking tip: All parking at the arena is located in on-site surface lots unjust outside the entrances. Parking is shared with the Georgia International Convention Center next door. Be sure to call the arena to inquire about parking options for your oversized vehicle ahead of time.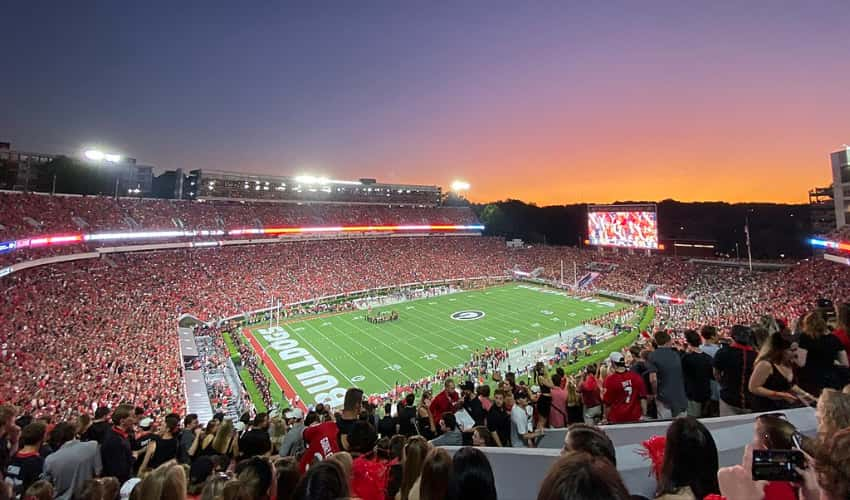 Atlanta-area Collegiate Sports
Traveling during university homecomings or major rivalry games can be exciting, but it's a pain to coordinate transportation. If your alumni organization or group of current students needs a group ride to a game, renting a charter bus is a safe and efficient way to travel. Rent a party bus from Atlanta to Athens for a big UGA game or book a shuttle around the city for a Tech game. Forget about missing kick-off while stuck in traffic, needing a DD from the tailgate, or losing track of everyone in parking lots—leave all the transportation up to Atlanta Charter Bus Company. Relax on the way to these college sports venues:
University of Georgia Bulldogs at Sanford Stadium
Address: 100 Sanford Dr, Athens, GA 30602
Phone: (706) 542-9036
Georgia State Panthers at Center Parc Credit Union Stadium
Address: 755 Hank Aaron Dr SE, Atlanta, GA 30315
Phone:  (404) 413-4020
Georgia Tech Yellowjackets at Bobby Dodd Stadium
Address: 177 North Avenue NW, Atlanta, GA 30313
Phone: (404) 894-5447
Beat Gameday Traffic with Atlanta Charter Bus Company
Cheer on Atlanta's top teams and explore their home turf with a group of your favorite people. Round up fellow fans or your local sports club and ride to the venue in a comfy vehicle from Atlanta Charter Bus Company. We'll make sure you travel safely and on time so you never miss an exciting moment on the field. Call 404-474-7769 to rent your Atlanta charter bus today!
Do you need to rent a charter bus?
We can help. Call us any time at 404-334-7202 to reserve your bus today!