A History Buff's Guide to Atlanta
As one of the South's most historic major cities, Atlanta has numerous landmarks and attractions for history buffs to easily fill an itinerary. From civil rights landmarks to performing arts history, there are plenty of historic attractions for your private group tour of Atlanta or educational history field trips for your local school.
As you craft an itinerary to see Atlanta's historic attractions, be sure to think about how you'll get there. Atlanta Charter Bus Company has minibus and charter bus rentals to perfectly suit your group history trip. You can rent a private charter bus around Atlanta with a professional driver to shuttle everyone to historic attractions around the city.
Book a charter bus and learn more about our bus rental pricing by calling 404-474-7769. Atlanta Charter Bus Company can help you easily and safely explore these historic locations around Atlanta:
Civil Rights Movement History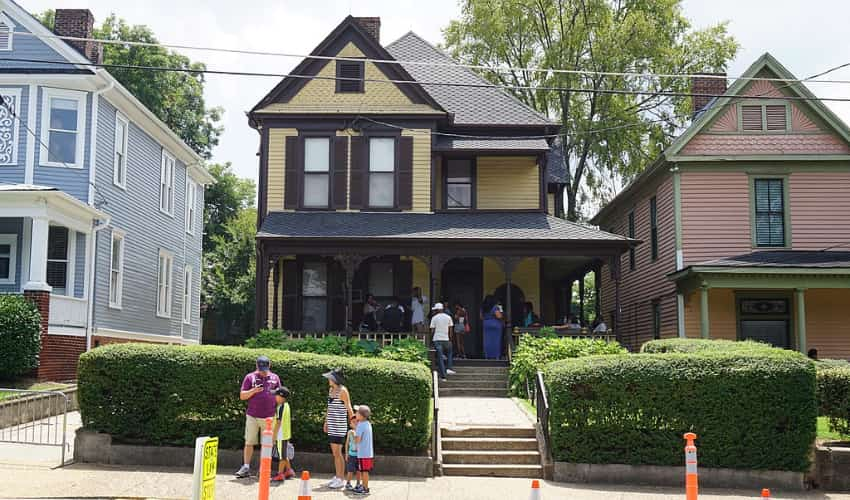 Martin Luther King Jr. National Historic Site
Address: 450 Auburn Ave NE, Atlanta, GA 30312-1504
Phone: 404-331-5190
The historically Black Sweet Auburn neighborhood of Atlanta is home to the Martin Luther King Jr. National Historic Site. This historic site encompasses the birth home of Reverend Martin Luther King Jr., Ebenezer Baptist Church where he preached, a museum, rose gardens, and a memorial site where he and his wife Coretta Scott King are buried. Additional nearby sites like historic Fire Station #6, the first station to hire Black firefighters, are often included in visits.
Visiting the National Historic Site is completely free and ranger-led tours are available of Dr. King's Birth Home. Self-guided tours are available throughout the rest of the site.
Charter bus rental parking: A designated loading and unloading zone can be found on Irwin Street. Bus parking is available at the lot on John Wesley Dobbs Avenue
National Center for Civil and Human Rights
Address: 100 Ivan Allen Jr Blvd NW, Atlanta, GA 30313
Phone: 678-999-8990
Established in 2014, this museum focuses on educating visitors about major historic events during the Civil Rights Movement and other international human rights movements. The informative and moving exhibits like Rolls Down Like Water, which explores the long history of the Civil rights Movement dating back to the Jim Crow era, and Spark of Conviction, an exhibition dedicated to major international advocates in human rights movements.
Groups of 10 or more qualify for admission discounts by calling the center in advance. Educational groups and groups traveling with children should keep in mind that the center's exhibitions are recommended for children 3rd grade-aged and older.
Charter bus rental parking: Buses can pick up and drop off passengers at the entrance on Ivan Allen Blvd. Buses can park at the Georgia World Congress Center Marshalling Yard for $25.
Local Atlanta History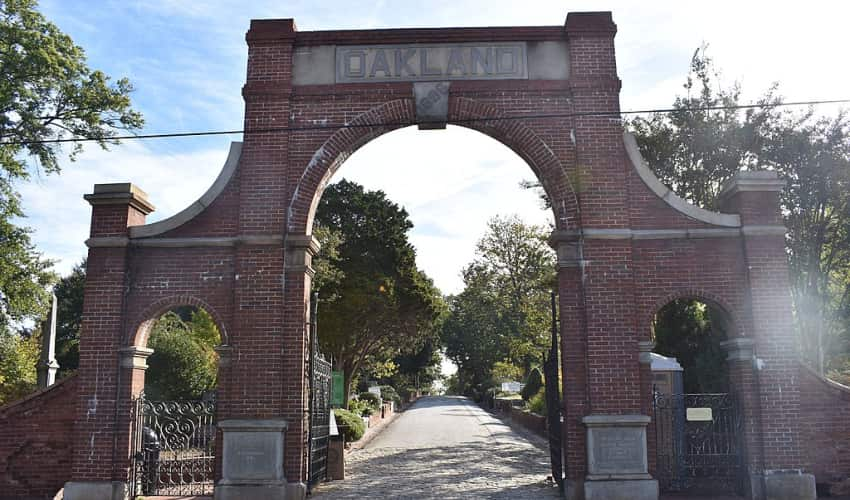 Oakland Cemetery
Address: 248 Oakland Ave SE, Atlanta, GA 30312
Phone: 404-688-2107
As one of the oldest and largest cemeteries in Atlanta, Oakland Cemetery has served as the final resting place for many of the city's famous residents. The Victorian-style garden cemetery was established in 1850 and has been developed into an expansive greenspace filled with architectural marvels like towering gothic mausoleums. Much of the cemetery's grounds are split into sections that reflect the city's history, including segregated grounds for Black burials, a section for traditional Jewish burials, and a mass burial site for many unnamed Confederate soldiers.
Stroll through the oak- and magnolia-lined walkways and visit the gravesites of legends like golfing great Bobby Jones, Gone with the Wind author Margaret Mitchell, and the first African American mayor of Atlanta Maynard Jackson. Private guided tours of the cemetery can be booked for groups of 9. Larger groups will need to split up into separate tours.
Charter bus rental parking: A small grass lot is located adjacent to the cemetery's entrance. Oversize vehicles likely won't be able to fit in this lot. Street parking can be found right next to the lot on Biggers St SE.
Atlanta History Center
Main Buckhead Campus Address: 130 West Paces Ferry Rd NW, Atlanta, GA 30305
Phone: (404) 814-4000
Dedicated to preserving history and teaching the public, the Atlanta History Center is the place to go to learn about all things Atlanta. From exhibits that explore the lives of Atlanta's first residents and the native Mississippian peoples to exhibits about Atlanta's role in the Civil War— there's plenty to pique the interests of history buffs. The Atlanta History Center's two campuses include additional historic attractions like the Margaret Mitchell House in Midtown and Swan House and Smith Family Farm in Buckhead.
Groups of 10 or more can take advantage of discounted admission for curator-led guided tours or self-guided experiences. Schools and youth groups can also book interactive educational experiences as well. You must request your group visit in advance, and there is a 50-person limit on each group block.
Charter bus rental parking: Garage parking is available for Atlanta History Center guests but these garages cannot accommodate oversized vehicles like charter buses. Bus dropoff is available in the roundabout off Andres Drive and parking can be found along the sidewalk just up the road from dropoff.
Atlanta Arts History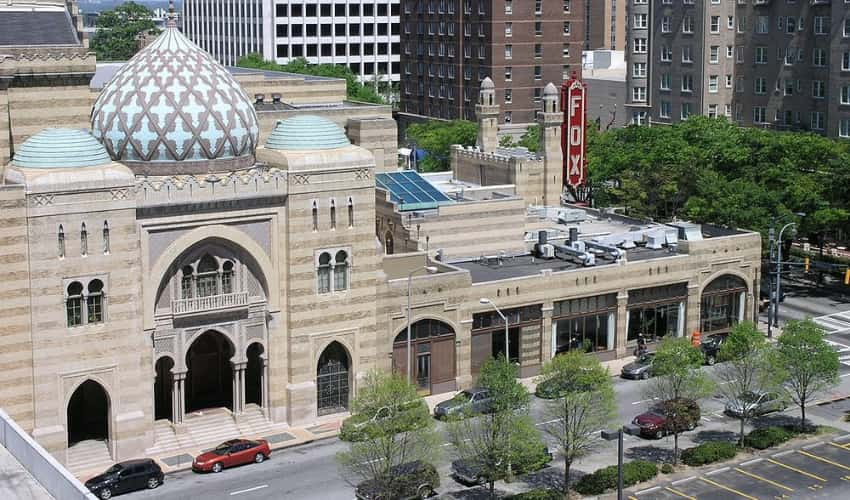 Fox Theatre
Address: 660 Peachtree Rd NE, Atlanta, GA 30308
Phone: (855) 285-8499
This former movie palace opened in 1929 as a part of Fox Film's nationwide chain of lavish theatres. Architecture lovers will enjoy the theater's gorgeous Moorish-style design and extravagant interior. The theater still occasionally screens films and is also home to the Atlanta Ballet, hosts Broadway shows and performances like concerts and stand-up comedy. Fox Theatre also offers private event spaces for corporate events, private parties, and wedding services.
Fox Theatre history tours can be booked for groups visiting on non-event days. The 60-minute guided tour will take you through the theater's history. Self-guided architecture tours of the building's exterior with a downloadable guide are also available. Tour tickets can be booked online in advance.
Charter bus rental parking: Parking at Fox Theatre can be found at public lots in the immediate area. The theater does not provide bus parking, so you'll need to organize off-site parking in one of the nearby public lots or in street parking spots on Ponce De Leon Ave NE and 3rd St NE.
Callanwolde Fine Arts Center
Address: 980 Briarcliff Rd NE, Atlanta, GA 30306
Phone: (404) 872-5338
Callanwolde Fine Arts Center is a historic performance venue located in Druid Hills, just a short distance from Emory University. The arts center was originally built in 1917 as home to the famed Candler family and was converted into a hospitality and arts space in the 1990s.  The Gothic Revival-style mansion now serves as a community center for non-profit arts programs including visual art workshops and dance performance classes. Callanwolde also serves as a popular event space for special occasions like weddings.
The arts center offers field trips for schools and camps, as well as art programs for adults. Seasonal tours are available for groups with prior registration. If you can't book a tour, consider registering for a class or grabbing tickets to art exhibitions or events on the center's calendar.
Charter bus rental parking: Callanwolde has a free private parking lot located in the rear of the building.
Explore History with Atlanta Charter Bus Company
Whenever you're ready to get your fill of knowledge about local history, Atlanta Charter Bus Company is here to help you get to your destinations without a hitch. Create an itinerary of your must-see historic spots in Atlanta and leave the group transportation up to us. We'll make sure your tour group filled with history lovers or field trip group travels safely throughout ATL. Call 404-474-7769 to rent your Atlanta bus today!
Do you need to rent a charter bus?
We can help. Call us any time at 404-334-7202 to reserve your bus today!