Guide to Atlanta's Best Summer Activities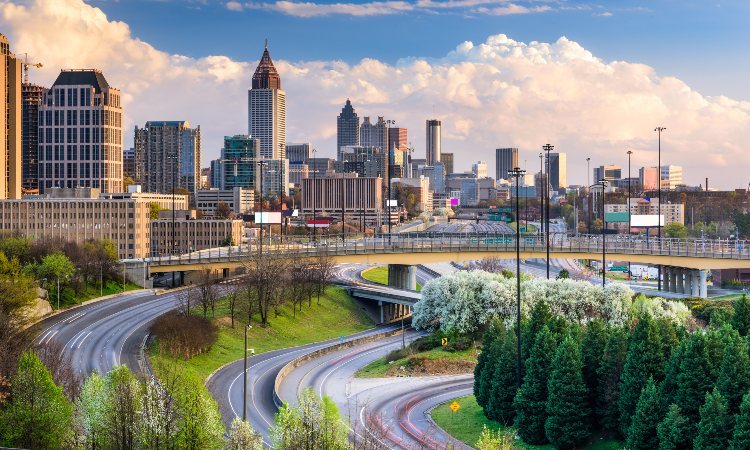 With so much to see and do in the Peach State, traveling through Atlanta can be a challenge. With a private bus rental, your tour group can explore the best of the city from educational tours, outdoor activities, and professional events to leading sports games and live entertainment. Travel with ease through the Gate City of the South with Atlanta Charter Bus Company, a 24-hour bus reservation service. Our experts will pair you with your custom rental for an easy first-time trip experience.
1.   Six Flags Over Georgia
Take a tour of Six Flags Over Georgia and enjoy exclusive rides and roller coasters in the largest theme park of the Southeast. This theme park offers more than 40 different rides and attractions including 12 top-ranked roller coaster rides. Explore all the excursions it has to offer while your driver handles your transport to and from the venue. Your private bus will work around ticket times, park hours, and scheduling to provide you with reliable park transportation.
2. Georgia Aquarium
View the largest aquarium in the world with more than 10 million gallons of water, located in downtown Atlanta, Georgia. The Georgia Aquarium is home to a variety of land and sea animals, presenting visitors with more aquatic life than any other aquarium. Families and groups of all ages can sign up for a live animal encounter with penguins, otters, or dolphins to experience ocean life up close and personal.
3. World of Coca-Cola
Taste your way through the new interactive World of Coke Museum as you gain a greater understanding of the history of The Coca-Cola Company, dating back to its founding in 1990. Large school or volunteer groups can explore fun events from watching a 4D movie to tasting over 100 soft drink flavors from all around the world. Your group can also take a walk through time and visit the vault where the legendary secret formula for Coca-Cola is secured.
4. Stone Mountain Park
Hike the world's largest single piece of exposed granite at Stone Mountain Park. The park is open to all ages, offering a wide range of landmarks and attractions suited for young families, 'tweens, and teens. School groups can learn about the monument's history at the Civil War Monument Museum, where they can explore the carving that serves as a memorial to the Confederate States of America. Groups can also take the sky tram up the mountain or cool off at Stone Mountain Lake for additional outdoor recreation opportunities.
New Summer Events:
5. Atlanta BeltLine
The Atlanta BeltLine is a new local favorite as the loop links more than 40 neighborhoods, multiple public parks, and a wide selection of mass transit stations in a planned 33-mile trail network in the core of the city. The path offers plenty for visitors to explore from Ponce City Market and Krog Street Market to the massive green spaces and biking trails of Piedmont Park.
6. SunTrust Park Braves Game
It wouldn't be summer without a baseball game! Take a swing at Atlanta's classic ballpark as you cheer on the Atlanta Braves with the tomahawk chop. This new stadium is home to a variety of restaurants and bars for young adults to celebrate a win at The Battery. After the games, SunTrust Park hosts concerts and fireworks for visitors to enjoy all summer long.
Plan Your First-Time Visit to Atlanta
Ready to plan your first-time trip to Atlanta? Navigate the city during peak travel times in a comfortable charter bus with the help of Atlanta Charter Bus Company. No matter the distance to the event, our drivers are well-rehearsed in trip navigation and scheduling. Atlanta Charter Bus Company works with a network of bus providers across the state to provide top-notch transportation services. The buses in our network include full-sized motorcoaches for large groups like school field trips and sports teams, along with various models of minibuses for small-to-medium sized groups. Call us at 404-474-7769 to book your Atlanta trip today!
Do you need to rent a charter bus?
We can help. Call us any time at 404-334-7202 to reserve your bus today!